Meat Packing Employment Law Violations
Donning & Doffing Lawsuits for Meat Packaging Employees
To help reduce the spread of the novel coronavirus and other diseases, employees across the nation are required to comply with a host of safety precautions, such as putting on (donning) and taking off (doffing) personal protective equipment such as masks, gloves, goggles and full bodysuits. Such precautions also include getting their temperatures taken before and after their shift.
These essential workers are putting their lives on the line every day they go to work. They deserve fair treatment.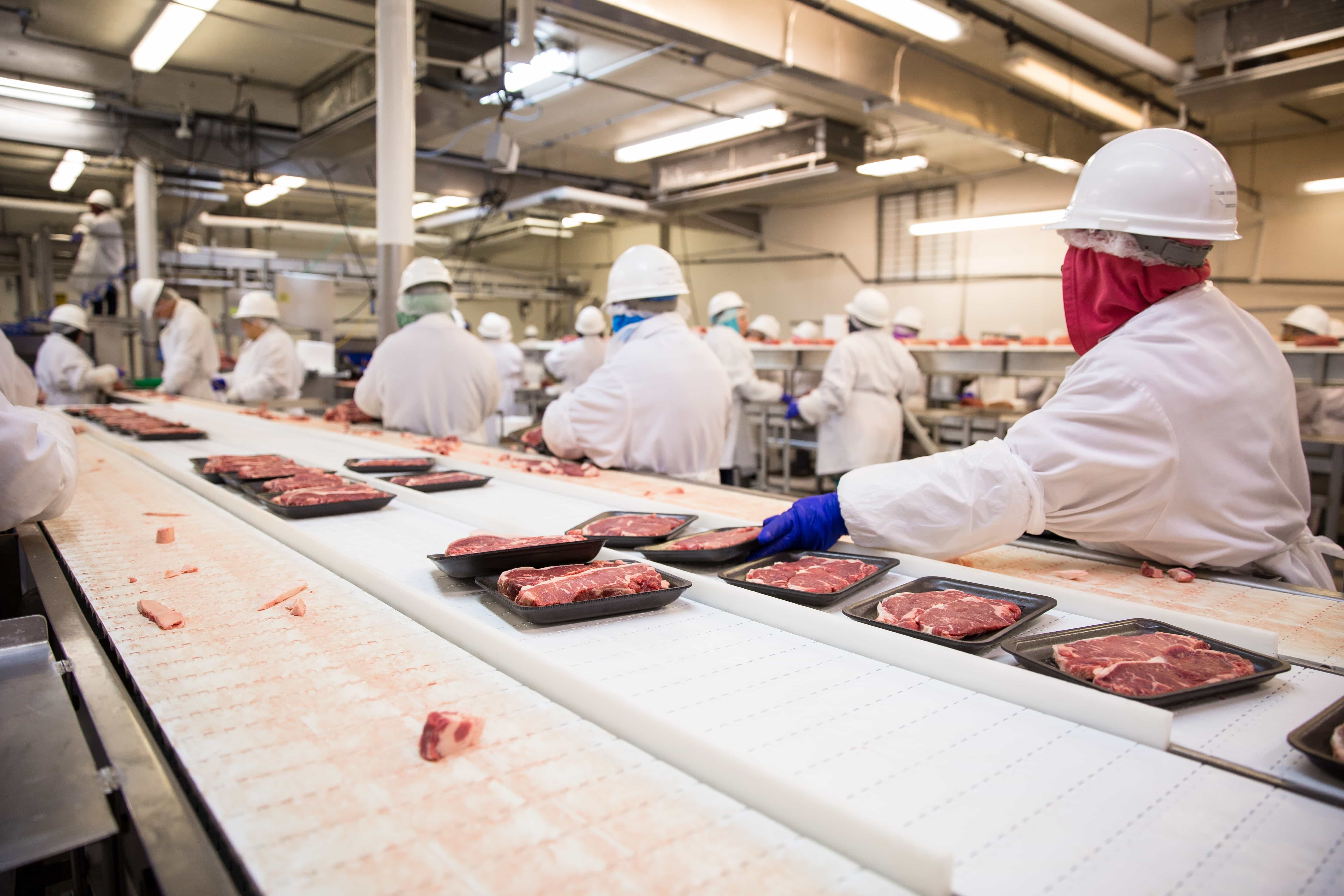 In the meat packaging industry, many employees are being subjected to wage and hour violations. The Fair Labor Standards Act (FLSA) requires that employees who spend time in donning and doffing activities and endure walking and waiting time, as a result, are entitled to compensation. Unfortunately, not all meat packaging companies are complying with this policy, resulting in the potential for countless employment law violations across the country.
Shellist Lazarz Slobin recently filed a class-action lawsuit against Tyson Prepared Foods, Inc. on behalf of production supervisors who were misclassified and underpaid by the company. Read more here.
Thus, our team is committed to fighting against these unlawful acts. Meat packaging employees have legal rights concerning the payment of fair wages and other working conditions. As such, the employment attorneys at Shellist Lazarz Slobin LLP are investigating donning and doffing claims at meatpacking plants nationwide. These include, but are not limited to, the following companies:
Tyson Foods (Springdale, AR)
JBS USA (Greeley, CO)
Cargill Beef (Wichita, KS)
National Beef Packing Co. (Kansas City, MO)
American Foods Group LLC (Alexandria, MN)
Greater Omaha Packing Co. (Omaha, NE)
Nebraska Beef Ltd. (Omaha, NE)
Caviness Beef Packers Ltd. (Hereford, TX)
AB Foods LLC. (Boise, ID)
FPL Food LLC. (Augusta, GA)
Kane Beef Corpus (Christi, TX)
Creekstone Farms Premium Beef (Arkansas City, KS)
Central Valley Meat (Hanford, CA)
Lone Star Beef Processors (San Angelo, TX)
L & H Packing (San Antonio, TX)
Harris Ranch Beef Co. (Selma, CA)
PM Beef Holdings (Windom, MN)
Central Beef Industries (Center Hill, FL)
Preferred Beef Group (Booker, TX)
Brown Packing Co. (Gaffney, SC)
Aurora Packing Co. (North Aurora, IL)
American Beef Packers (Chino, CA)
Triple J Family Farms (Buffalo Lake, MN)
VPP Group LLC (Norwalk, WI)
Elkhorn Valley Packing (Harper, KS)
Randolph Packing Co. (Asheboro, NC)
Open Range Beef (Gordon, NE)
Manning Beef//Bro Pak (Pico Rivera, CA)
Nicholas Meat Packing (Loganton, PA)
Schenk Packing Co. (Stanwood, WA)
Do you have a donning and doffing claim?
COVID-19 has taken a toll on countless lives, and meat packaging employees who continue to work and risk their lives deserve the utmost protection in the workplace. Thus, our employment attorneys at Shellist Lazarz Slobin LLP are committed to securing compensation on behalf of employees whose legal rights were violated. We are staying up to date on donning and doffing violations, as well as all unlawful acts, in the meat packaging industry to best safeguard employees' legal rights.
Meat packaging companies should not get away with mistreating their essential workers. Therefore, if you believe your wage and hour rights were violated, whether they pertain to donning and doffing or not, we urge you to contact us at (713) 352-3433 so we can get started on your case. Our employment attorneys look forward to fighting for your best interests.
Contact Shellist Lazarz Slobin to Schedule Your Consultation
Whatever employment issues you face, you can find the answers you need by contacting us.